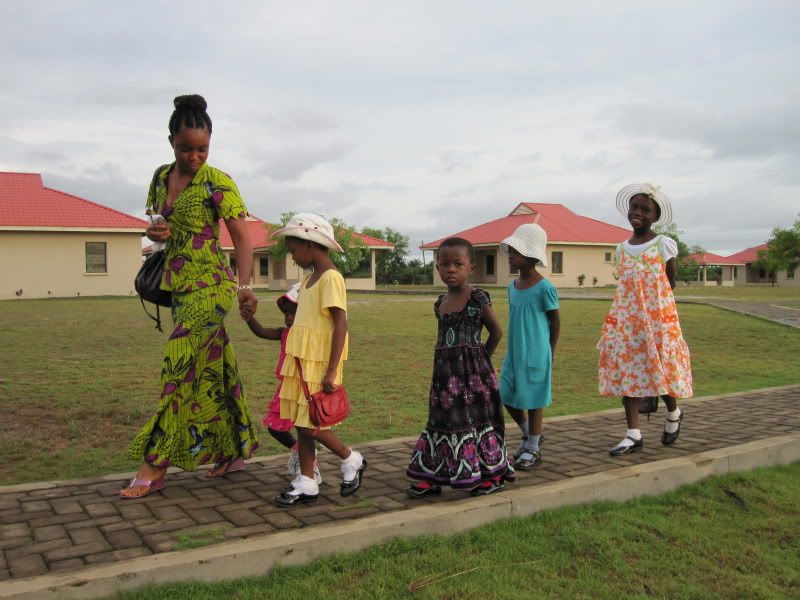 Mother's Day is taken quite seriously here in Liberia. Most churches had nominations and voting weeks ago for "Mother of the Year" for their particular congregation. Today, in churches all over Liberia, the winners of those ballots, as well as ALL mothers, were honored in worship services.
Today was a day when ladies dressed up in their finest dresses. Many women had new outfits for the occasion. Matching shoes and handbags, hats or head wraps, lace, brocade, satin, bright colors, big jewelry...it was a good day for those of us who enjoy a well-coordinated outfit! The ladies of Liberia looked very lovely today.
I felt a little dowdy in my brown skirt and apricot blouse! I was hat less; not wearing heels; no necklace or dangling earrings. I had felt pretty good about myself before I left the house this morning, but inside church, I looked rather plain next to all the gorgeous women in the building!
Our mothers at the village were all dressed up, too. And the kids were excited. Before breakfast, they had given their mothers cards and gifts they had made at school this week. The children knew it was going to be a special day at church.
Hope your day was special and memorable, also.